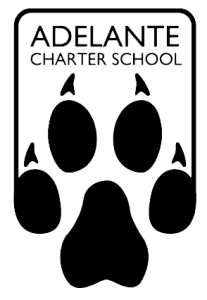 ADELANTE CHARTER SCHOOL School District: Santa Barbara Elementary School District CDS Code: 42692786118202 Principal: David Bautista Grades: K-6 Students Enrolled: 283 1102 E. Yanonali Street, Santa Barbara, CA 93103 tel: 805.966.7392 Google Map (The office and entrance is on Wilson Avenue between Mason & Yanonali). More information about our location is on our Contact Page.
About Us: Located next to the Franklin Elementary campus in Santa Barbara, Adelante Charter School is a Spanish-English immersion elementary school, where every child enters as a second language learner and every child graduates bilingual and biliterate. Adelante's two-way immersion (TWI) program design has been shown to be the most effective way to teach a second language to all learners. Children who are bilingual demonstrate a cognitive advantage that could last a lifetime, affecting skills related to planning, problem-solving, mental focus, and memory. Within this language and culture-rich environment, Adelante implements an outstanding academic program with emphasis on science, math, technology, and the arts.
Our Mission, Vision, and Values Mission: The mission of Adelante Charter School is to develop bi-literate, multi-cultural students whose strong academic and cultural foundations prepare them to meaningfully participate and provide leadership in their families, their community and their world to create a more just and equitable society.
Vision: Adelante Charter School strives to be a model dual-immersion school, recognized at the local and state levels for its outstanding academic program led by a passionate and talented staff, strong parental and community involvement, sound financial resources, and a committed board of directors.
Values: Adelante Charter School (ACS) has adopted the core values of César E. Chávez as they pertain to creating a socially just community: service to others, sacrifice, a preference to help the most needy, determination, non-violence, acceptance, respect for life and the environment, community, knowledge, and innovation. Read more about these values in this document.
Our History Adelante Charter School (ACS) is deeply rooted in the original vision and mission of the previous César Estrada Chávez Dual Language Immersion Charter School. In the spring of 1999, its founding members started a community-based initiative with support from the Santa Barbara School District.  The charter school developers were comprised of a team of educators, parents, representatives of community-based organizations, and civic leaders who were committed to outstanding long-term academic achievement, fluency and literacy in Spanish and English for all students.  César Estrada Chávez Charter School was granted a five-year charter on July 26, 2000 from the Santa Barbara School Board of Education. In the fall of 2000 the charter school opened with two classrooms and 40 students in grades kindergarten, first and second. The goal of the charter school was to provide a K-6 program.
César Estrada Chávez Charter School had its charter renewed for five additional years in 2005. The school grew faster than anticipated and unfortunately, critical elements of the two-way immersion model were lacking. The student achievement data reflected the need for a drastic change in the instructional model and the need for strong leadership to guide the efforts. In response to the data, a team representative of educators, parents and community members began meeting in the spring of 2009 and began to develop a new educational plan for César Estrada Chávez Charter School. After a tumultuous year and the threat of school closure, Adelante Charter School was established with a new charter, new instructional model, new instructional leader and strong collaboration with the Santa Barbara School District. Adelante Charter School continues to be based on the original vision of the César Estrada Chávez Charter School founders and the core values of César Chávez. Adelante was granted a four-year charter after meeting specific conditions from the Santa Barbara School Board of Education and officially opened in the fall of 2010. Adelante implemented the 90:10 TWI model where 90% of the instructional minutes are delivered in Spanish for all students in Kindergarten and 1st grade and where the percentage of time in Spanish decreases as students move through the grades until they reach 5th and 6th grades where the time spent in Spanish and English is equal, 50/50. The quality of teaching and learning was addressed as extensive professional development, resources and other school improvement efforts were supported by a million dollar School Improvement Grant that was awarded as of the 2010 school year.  The staff is stronger, students have access to quality instruction and resources, the learning environment has improved significantly and parent involvement has increased.  As of 2010, the community experienced continuous growth most recently achieving an API score of 763.
Families in the community have a greater interest in ACS as the school continues to demonstrate a strong dedication to academic excellence and high quality two-way immersion instruction.  In addition, ACS has operated as a responsible direct-funded charter school in designing its own long-term plans; engaging in curriculum development and student assessment; hiring, training, and supervising staff; managing budget and fiscal operations; and maintaining the facility. As a united force, parents, staff and community partnerships contribute to the quality two-way immersion program.
Our Location – Visit Us! We are located at 1102 E. Yanonali Street, just off of Milpas Street in Santa Barbara.  Our campus is adjacent to Franklin Elementary School, and we share the auditorium and playground space.  Many of our students and families live in the surrounding community and walk to school, and we equally welcome our families who reside in other areas of the Santa Barbara region.  If you would like to visit us, you may schedule a tour by calling our office at 805.966.7392.  We look forward to meeting your family! To learn more about our educational program and philosophy visit our academics page. For more information on our school-family partnership, visit our page for Parents.
Charter- A copy of our school charter can be found by clicking here.
SARC School Accountability Report Card: Since November 1988, state law has required all public schools to prepare and distribute annually a School Accountability Report Card (SARC). The purpose of the report card is to provide parents and the community important information about the performance and condition of each California public school. The SARC can also be an effective way for a school to report the progress it has made toward achieving its goals. The public may use the SARC to evaluate and compare schools throughout the state on a variety of indicators. More information about the requirements for the SARC is available on the state's SARC website.
Copies of the Adelante's SARC can be obtained from the school office.
You can also download it as a pdf here: SARC 2015-16.
Local Control Accountability Plan (LCAP) The Local Control Accountability Plan (LCAP) is a critical part of California's new Local Control Funding Formula (LCFF), where charter schools engage parents, educators, employees and the community in establishing these plans. The LCAP describes our overall vision for students, annual goals and specific actions we will take to achieve the vision and goals. The LCAP focuses on eight areas identified as state priorities and demonstrates how our budget will help achieve the goals. The plan also includes an assessment each year of how well the strategies in the plan were able to improve outcomes.
You can download a copy of Adelante's LCAP here:Adelante LCAP 2018-19
Local Educational Agency Plan Goal 2 Budget Update TIII_LEAPgoal2BUDGETupdateFINAL
Annual Letter from our District Attorney Joyce Dudley2015-2016 DA Information Letters Eng and Spn (1)
CHKS Healthy Kids Survey Results: Healthy Kids Survey Results 2015-16