The K-6 teachers of Adelante Charter School all have a valid teaching credential and have "bilingual certification" as in our "two-way immersion" program, it is critical that teachers are fluent in the target language, Spanish.  Our school culture is one that promotes academic success and this is achieved as our teachers set high expectations for themselves and for our students.  Professional learning is a priority at Adelante and our teachers are trained in many of the most effective teaching strategies and instructional programs.  Our teachers show great enthusiasm for collaboration with other teachers and communicate effectively with parents.  Providing students with a quality learning environment is a priority here at Adelante and something you will find in our classrooms.
Kindergarten
Carolina Alcaraz joined the wonderful Adelante community as a Kindergarten Teacher in 2015. She is originally from Guadalajara, Jalisco, Mexico, and moved to California in 2003 along with her parents and brother. Mrs. Alcaraz is married to her husband, Ricardo Alcaraz. Her passion for teaching motived her to obtain her teaching credential and Masters Degree in Bilingual Education from Antioch University of Santa Barbara. The relationship among teacher, student, and family is imperative for Mrs. Alcaraz. The student-centered and safe environments are number one priority in Mrs. Alcaraz's style of teaching.
Fernanda Morales will be teaching kindergarten this year. She joined the Adelante family in 2016 after moving to Santa Barbara from Florida. She is originally from Argentina where she graduated from the National University of Tucuman with a Bachelor of Arts in Teaching English as a Second language. She taught English for more than ten years to children and adults from all over the world. She married her American husband and moved to Florida where she taught English and Spanish for about 5 years. Her goal was to teach at young children at elementary schools so she went on to obtain her Multiple Subject Teaching Credential. She has experienced the value of learning a second language and respecting other cultures in her own life, and so she strongly supports Adelante's mission and feels proud to be part of such a great family. Ms. Morales' main goal is to create a friendly and nurturing atmosphere in her classroom where every student feels valued and motivated to develop his full potential. When she is not teaching, she enjoys doing all sorts of outdoor activities: running, walking, working out and exploring nature. She looks forward to the many adventures that teaching Kindergarten will bring this year!
First Grade
Graciela H. Rodriguez (Chely)has been involved in dual immersion education for 14 years. She was born in Santa Barbara and raised in Carpinteria. When she was in second grade she was discouraged from speaking Spanish at school and unfortunately stopped speaking it. Now, she has the opportunity to teach in Spanish everyday at ACS. As much as she loves to teach, she also loves to learn. After high school, she attended UCSB and graduated in 2002 with a B.A. in Sociology and Spanish. In 2005, she received her Masters in Multiple Subject Education and Mild to Moderate Disabilities Education Specialist Credential from Azusa Pacific University. In 2012, she obtained a Preliminary Administrative Credential. As a teacher, she understands the powerful impact a teacher can have on children and is dedicated to forming strong relationships with her students, their parents and the community at large. Mrs. Rodriguez is inspired by the academic and social growth of  her students as they work collaboratively, practice compassion for all beings and become self-directed, life-long learners. With a heart full of passion, love for the history of ACS and the César Chávez Core Values, Mrs. Rodriguez is dedicated to the success of ALL her students. When she is not teaching, she enjoys playing roller derby and spending time with family. She loves ALL animals and is considering getting a new classroom pet.
 Andrea Carrillo is a first grade teacher and new to Adelante Charter School this year. She was raised in Carpinteria, where she still resides with her husband and daughters. She has been involved with the neighboring community as she worked at the Eastside Library for six years. It was through her work at the library and outreach with Adelante Charter School that she discovered her passion to work with children and families of the like community to build, encourage, and promote bilingual education in a world where it is very much needed and appreciated. She was a bilingual student herself, and found and appreciated the deep personal and professional benefits and opportunities she has received from being so. ACS's mission, vision, and values correlate with Maestra Carrillo's strongest beliefs. She is prepared to help her first graders develop a strong academic and cultural foundation so they can provide leadership in their families, community, and world. Together, they will reach unimagined boundaries and have fun while doing so! She is excited to provide her students with a safe, encouraging, challenging, loving, and extraordinary learning environment where students can safely express themselves academically and socially.
Second Grade
María Dolores Meraz is a second grade teacher at Adelante Charter School. She has thirteen years of experience as a teacher, and for the last four of those years she has taught second grade. Mrs. Meraz was born in La Loma, Durango, Mexico. She studied to be an elementary school teacher at the Normal Rural in Saucillo, Chihuahua. Later, she graduated with a Master's Degree as a mathematics teacher at the Normal Superior De La Laguna. She is married and has three daughters. In January of  2000, she began studying English as a second language at the Allan Hancock Community College in Santa Maria, California.  In May of 2004 she completed her General Education there and transferred to Cal Poly San Luis Obispo where in March of 2007 she earned her teaching credential. Mrs. Meraz truly believes in two-way immersion as a tool for supporting all students to demonstrate positive attitudes and behaviors toward other cultures. Mrs. Meraz not only cares that her students learn academic concepts, but that they also develop moral values and love for their families.
Tania Ferrufino will be teaching second grade this year and is new to the Adelante family. She is originally from El Salvador where she spent 5 and half years of her life before moving to Santa Barbara. She earned her Bachelor's degree in Liberal Studies from San Diego State University, and earned her credentials from the California State University of Los Angeles. Ms. Ferrufino most recent involvement with education has been at Franklin Elementary where she taught a Kindergarten summer program. Prior to her work at Franklin she was a curriculum specialist at Roosevelt Elementary for all of first grade. Ms. Ferrufino's love of teaching came at a very early age and has led her to where she is today. Ms. Ferrufino believes that it takes a community to educate children, and belives that each student should be valued for his or her individuality. Ms. Ferrufino sets the bar high in her classroom and expects excellence for each and everyone one of her students. She is so humbled and excited to be working at a bilingual school and cannot wait to learn and grow at Adelante.
Third Grade
Mrs. Ruiz Santillán is one of two third grade teachers at Adelante Charter School where she began her career. She was born and raised in beautiful Santa Barbara.  As a student of the University of California, Santa Barbara, she had the opportunity to study abroad in Granada, Spain, in 2005 at the CEGRI language school. She earned a Bachelor's degree in Chicana/o Studies, a Masters in Education, and a bilingual teaching credential from UCSB. She is an educator who is appreciative of the opportunity to teach her students and is committed to providing them with a rigorous third grade experience.  Her commitment to providing students with extraordinary learning experiences is evident in her planning of the annual overnight 3rd grade field trip to the Monterey Bay Aquarium after an in-depth study of ocean habitats.   She is married and a mother. Along with spending time with her family she also enjoys teaching, traveling, cooking, staying active and creating photo albums to record those special moments in her life.   She quotes Ralph Waldo Emerson who stated; "To be yourself in a world that is constantly trying to make you something else is the greatest accomplishment." Mrs. Ruiz Santillan's mission is to teach to the highest standards, guide students to collaborate and learn from each other, and to help them become proud, well-rounded citizens of the world. ¡Sí se puede! Yes we can!
Brenda Rubio is a third grade teacher at Adelante Charter School. She first began her teaching career as a kindergarten teacher here at Adelante and is excited to continue that journey in third grade.  Growing up in Santa Barbara as a bilingual student, she has seen the importance of being not only bilingual, but also bi-literate. She is very excited to be a part of a school that provides students the opportunity to develop bilingualism. Maestra Rubio received her Bachelor's degree and Multiple Subject Teaching Credential at CSU Channel Islands.  Her goal is to provide a learning environment that promotes critical thinking, as well as a place where students can collaborate and inspire each other to be successful. Maestra Rubio is looking forward to motivating her students' to a life long love of learning just as her teachers did during her school years.
Fourth, Fifth & Sixth Grades
Annabel Meza is one of the fourth grade teachers at Adelante Charter School. She received her Bachelor's degree in Sociology with a double minor in Education and Spanish. She continued her studies at UCSB where she received her Masters of Education and multi-subject teaching credential. Ms. Meza began her journey at Adelante as a student teacher in 2016. Her love for the Adelante community grew immensely and she knew that Adelante was the place she would like to call home. Growing up in East Los Angeles as a bilingual student, she has learned the importance of learning a second language and the value of maintaining students native language. Her love for teaching came at an early age as she was inspired by her pre-kindergarten teachers, who she maintains a close relationship up to this day. This experience has inspired her to also create close relationships with students and parents in order to create a community that inspires, encourages, and promotes educational goals. Ms. Meza is excited to continue working with our community and cannot wait to continue learning and growing at Adelante Charter School.
Luisa Barber is one of the fourth grade teachers at Adelante Charter School. She grew up in Carpinteria, California. She is a native Spanish speaker. She did her student teaching in Santa Barbara Charter School in a third grade class and in Franklin kindergarten class. She received her Bachelor's degree in Liberal Arts and her teaching credentials from Antioch University. She has a 6-year-old son and enjoys hiking, reading, and traveling. She is passionate about learning and growing. Her goal is to foster an environment where students become self-motivated leaders. She hopes to encourage all students to know that their life goals are attainable. "Yes we can!/Si se puede!"
Paula Sevilla is a fifth grade teacher at Adelante Charter School. Her grandfather emigrated to the United States from México, and she grew up speaking only English at home. It wasn't until she turned fourteen, when she began to work and study language in high school, that she started to learn Spanish. Once she began learning Spanish, she never wanted to stop learning more and more! She actually liked it so much that she moved to Latin America, where she was speaking Spanish everyday. After living in Latin America for six years, five in Guatemala and one in Mexico, Ms. Sevilla returned to her hometown and earned her teaching credential and Masters in Education from the University of California, Santa Barbara. Since finishing her studies, she says she is privileged to be part of the incredible community at Adelante. Ms. Sevilla says that it is a great blessing to be a part of her students' learning during such a key time in their lives: when they are leaving childhood behind and becoming young people from here…en Adelante!
Veronica Ramos is a fifth grade teacher and joined the staff in 2011.   She was born and raised in a Spanish speaking home where her parents passed down strong Mexican values and instilled the importance of an education. She earned her Bachelor's degree in Spanish and Chicana/o Studies at the UCSB in 2008. Two years later she went back and earned a Masters in Education and a bilingual teaching credential. She truly loves teaching, and sees her work as the planting of seeds where she experiences tremendous joy watching the children sprout. When she is not at Adelante, you can find her playing team sports, softball being her favorite. She also enjoys watching her students play youth sports. Her teaching philosophy is centered around cooperation where students have the opportunity to construct their own learning. She finds that the students not only learn together but they also teach each other. In her classroom Maestra Ramos creates an environment where everyone strives to become a successful TEAM; where everyone is important, respected, valued, loved and encouraged.
Michael Macioce is the sixth grade teacher at Adelante Charter School with 11 years of teaching experience, the last three of which he has taught sixth grade. Mr. Macioce was born in Sleepy Hollow, New York and grew up in New Jersey. He studied German in high school, and lived for a year in Berlin, Germany. He started college at Hampshire College in Massachusetts and finished at UC Santa Cruz, graduating with a BA in Environmental Studies and a Masters in Teaching. Later he studied Spanish while teaching preschool in Ventura. He is married to Lauren Macioce with whom he has two daughters. Mr. Macioce believes in the power of two-way immersion as a vehicle for social justice and peace across cultural lines.  He is especially enthusiastic about inquiry-driven mathematics, hands-on environmental ocean science and infusing everyday teaching with technology. He strives to nurture students' social-emotional intelligence, foster a love for reading literature and support students' self-expression through intensive writing instruction. He hopes that all students develop a deep confidence during their time at Adelante Charter that they can learn to accomplish whatever it is they wish for in life.
Monica Dettmer is joining Adelante as the new sixth grade teacher this year. She has spent the last few years living and teaching a 5th grade bilingual class in Santa Cruz county. She is very excited to now be living in beautiful Santa Barbara, and to be teaching sixth grade. She loves to run, hike, play guitar, sing, read, and meet new people. From a young age, her heart always told her to learn and speak more than one language. She spoke Spanish with her dad, and in middle school, high school, and college, she took as many Spanish classes as possible, and spent a semester in Spain. Learning Spanish changed her life, and opened up her heart and mind in so many ways. She received her bilingual teaching credential and Masters at UC Santa Cruz. She loves being part of a bilingual class because there is always something new to learn and share each day. Her favorite thing is seeing her students being positive leaders in and outside of the classroom. They are the future! Monica feels extremely fortunate to be joining the inclusive, warm community of Adelante this year.
Dance
Lauren Macioce is the dance teacher at Adelante and has been teaching PE for seven years. She also teaches with the Santa Barbara Dance Institute (SBDI) and teaches third and fourth grades as well as the after-school SWAT team classes. Mrs. Macioce was born and raised in Ventura, California. She graduated from UC Santa Cruz with a BA in American Studies and finished her teaching credential with Cal State Teach. She is married to Michael Macioce with whom she has two daughters, Isabella and Gianna. Lauren is a natural advocate for a highly active lifestyle who shares her enthusiasm for athletics, dance and playful activity with all of the students and the whole Adelante community. You will often find her teaching a Zumba class to parents in her free time. This year she will be coordinating a runners' club during lunchtime recess and a capoeira club after school. Lauren is passionate about finding situations where students are naturally engaged and motivated while they challenge themselves to build their skills, agility, endurance, and great sportsmanship.
Art Teacher
"Art was so important to me as child and I was lucky enough to grow up in a family that believed in the value of raising creative thinkers. Through art we learn to be open minded, think critically, appreciate the beauty of the things around us, dream big and always maintain our childlike sense of wonder." 
Amber ORourke grew up in Watsonville, California and moved to Santa Barbara during the summer of 2003. She attended SBCC before transferring to the University of California, Santa Barbara where she graduated with a Bachelor of Arts degree in Studio Art. Since graduating she has had the pleasure of teaching art through the iCAN program at several Santa Barbara elementary schools including Harding University Partnership School and Santa Barbara Community Academy. Amber has a passion for teaching children to express themselves through creative art and truly believes that art education helps aid children in their journey to becoming well-rounded, balanced individuals. Amber is a painter, avid reader, animal lover and live music enthusiast. She finds artistic inspiration in a wide variety of artists such as Mark Rothko, Gustav Klimt and Paul Klee.
Music Teacher
 Sandra Limón joined the Adelante Charter School community in March of 2017. Sandra was born and raised in Inglewood, California where she was first introduced to music at a very early age, having had the opportunity to participate in her father's Spanish parish choir at the age of 4, while learning to play the piano at the age of 6. Sandra's passion for music continued into UCLA where she completed her Bachelor of Arts in Music History (2007). Upon receiving her Bachelor's, Sandra returned to the South Bay, opening a piano studio for students of all ages while also becoming St. Joseph School's Music Teacher for nearly 10 years. During her time at St. Joseph's, Sandra directed bilingual choirs, musicals and variety shows. Sandra is passionate about creating a positive learning environment revolving around Music Theory, Music Performance and Music History.
Special Education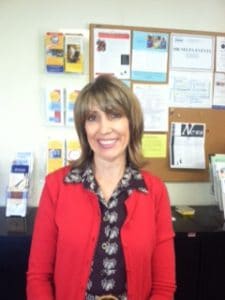 Dr. Jarice Butterfield is currently the Santa Barbara County SELPA Director and is an Adjunct Professor at Antioch University Santa Barbara. She has background and training in school psychology, English language development and special education.  She worked for many years in bilingual schools as a resource specialist and English language development instructor. She has written several grants to fund and implement model English language development programs for parents and students incorporating technology-assisted instruction. She has previously worked as a Special Education and Bilingual Program Director in various school districts and counties for many years.  She provides staff development nationally and in the state of California on meeting the needs of English learners with disabilities. She drafted the book Meeting the Needs of English Learners with Disabilities Resource Book for the State SELPA Directors Association and co-authored Best Practices for Meeting the Needs of English Learners With Disabilities available through LRP Publications. She also currently serves as the Chair Person to the State SELPA Directors' Association Ad Hoc English Learner Committee.
Leticia Lemus is the special education teacher and joined the staff in 2018. She was born in Michoacan, Mexico where she spent six and a half years before moving to Santa Paula, California. Ms. Lemus is the oldest of five and grew up in a Spanish speaking household. From an early age, she realized the importance of being bilingual as well as that of pursuing a higher education. She learned that her bilingualism bridged many gaps between her parents and English-only speakers. For that reason, she was inspired to pursue a career where she could use her native language to continue bridging gaps. In high school, after meeting a teacher that helped her realize her true potential, Ms. Lemus knew that becoming a teacher was her calling. With dedication, she got her B.A. at UC Santa Barbara and finished her Education Specialist and Multiple Subject credentials at Antioch University, Santa Barbara. Prior to pursuing her teaching credential, Ms. Lemus worked in various school settings in Santa Barbara, Goleta, and Montecito. Those experiences shaped her philosophy of education. She is dedicated to creating a safe and caring environment conducive to learning; she believes that students learn best when they feel safe and cared for. She has high expectations for all students and believes that teamwork amongst students, families, teachers, and support providers is a critical component in developing a comprehensive support system which nurtures students' academic and socio-emotional well-being. Ms. Lemus is honored to be a part of a school community that works tirelessly to create a more just and equitable society.
Christina Aguirre-Kolb joined the Adelante Special Education Team for its inaugural year as the School Psychologist. Christina has been a School Psychologist since 2005, working at all levels of schooling for several various school districts. From her first internship as a School Psychologist, supporting the Spanish language needs of students and families is a consistent goal. Focused work in a behavioral and neurodevelopmental medical clinic for the past 4 years to support the academic needs of children in Los Angeles County honed her passion in this field.  Currently, Christina is working towards a doctorate degree in Clinical Psychology through Alliant International University.  She is excited to work at Adelante Charter School, which she believes is a flagship school for bilingual education; and, can now demonstrate the possibility of bilingual education for children with special needs!